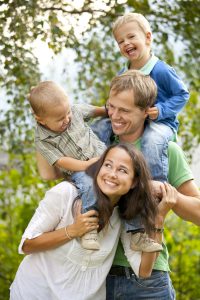 Welcome to this parenting section where we will share additional resources for you and your family. Check back frequently to see updated information.
Click on the links below to discover more:
Dr. Dave
Known as "Dr. Dave" on campus and across the country, Dave Schramm is an associate professor and family life extension specialist at Utah State University in the department of Human Development and Family Studies. After graduating with his Ph.D. from Auburn University, he worked as a professor at the University of Missouri for nine years.
Shortly after arriving at USU in 2016, he was appointed by Governor Herbert to serve on Utah's Commission on Marriage and he now serves as the faculty director of the Commission. He appears regularly on television on Fox 13's "The Place" and he shares tips and videos on social media and YouTube to help individuals, parents, and couples thrive in their life journeys.
From British Columbia to Beijing, China, and from St. Louis to San Diego, Dr. Dave has given over 500 presentations, classes, and workshops to a variety of audiences, including the United Nations and a TEDx talk in Florida.
Dr. Dave has created tons of free videos to help parents, all on his YouTube channel Dave Schramm – YouTube
Dr. Dave's Ted talk can be found at: https://www.youtube.com/watch?v=Pmz7z4hyM9E&authuser=0
Dr. Dave has contributed significantly to a 100% free app for parents that was just released, created and distributed by Impact Suite and Malouf. It's called Raise, and it's an app to help parents with all the technology questions they have, from cyberbullying to balancing screentime and inappropriate content. You can find it on the app store by searching the two words: Raise Parenting. FREE! It's a game changer.
Conscious Discipline Parenting Curriculum
Parenting/Parent/Father/Father Figure Engagement
Budgeting
Prevent Child Abuse Utah
Potty Training